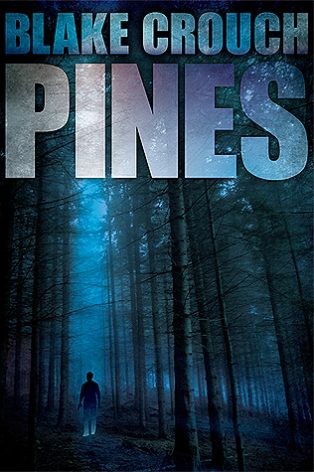 Pines
by
Blake Crouch
Series:
Wayward Pines
,
#1
Published by
Thomas & Mercer
on August 21, 2012
Genres:
Horror
,
Mystery
,
Thriller
Pages:
305
Goodreads

Secret service agent Ethan Burke arrives in Wayward Pines, Idaho, with a clear mission: locate and recover two federal agents who went missing in the bucolic town one month earlier. But within minutes of his arrival, Ethan is involved in a violent accident. He comes to in a hospital, with no ID, no cell phone, and no briefcase. The medical staff seems friendly enough, but something feels…off.

As the days pass, Ethan's investigation into the disappearance of his colleagues turns up more questions than answers. Why can't he get any phone calls through to his wife and son in the outside world? Why doesn't anyone believe he is who he says he is? And what is the purpose of the electrified fences surrounding the town? Are they meant to keep the residents in? Or something else out? Each step closer to the truth takes Ethan further from the world he thought he knew, from the man he thought he was, until he must face a horrifying fact—he may never get out of Wayward Pines alive.
My Review:
If you've watched the show, then there's very little that's new for you here. If you're trying to choose between the book and the show, read the book first. I watched the first few minutes of the TV show, but it was one of those nights that I was not in the mood for TV. So, I changed the channel vowing to read the book as soon as possible.
In the spirit of transparency I want to say that I am biased because I love the author's writing. His Dark Matter was the first and only book to this point that I read, and I was floored. So for me this was, Wow. This was an entertaining read. Operative word = entertaining. Leave your disbelief outside for the time being.
Like Dark Matter, it is best to go into this story as blind as you can. I went into this only knowing that Blake Crouch wrote it and because I loved DM, I decided to give this a shot. Even with all this love, I think I had to renew this book three times, because I kept putting it off, "I know Blake wrote this, but no way is it good as good as DM. If I don't get to it this time around, I'll return it unread and check it out some other time." I went into this blindly and with no expectation that this would be great. Good maybe, but not great. Man, I love being wrong.
Some folks had problems with the fragmented writing, others said that it mimicked Ethan's short bursts of progress and helped them get a feel for what he was going through. I had neither problem nor revelation with the writing. It made me care for the characters, filled me with suspense and had me turning the pages well into the night.
I'm going to assume that you didn't read the blurb above, that way I can just repeat it here and it won't feel repetitive. Secret Service agent Ethan Burke is sent to Wayward Pines, Idaho (of course it had to be Idaho, where I hope to find my forever home next year) in search of two missing federal agents. He's involved in an accident and wakes up with no ID, no phone and his briefcase is missing. As the days pass, he wonders why he can't get in touch with wife or boss and why this small town is fenced in.
Ethan is figuring out that there is something not quite right with this town. Try as he might, he can't leave.
I was hooked. I needed to know what was going to happen next and it couldn't wait. Once I was a good bit into the book, I had enough information to make a guesstimate as to what was happening. There's only one logical explanation, unless the author was going to introduce Dumbledore into the mix. I made an educated guess and figured out what happened to him but the why and everything else, floored me. I was gobsmacked. I read the last few chapters with my jaw in my lap, catching flies and possibly drooling a little. To say that I was surprised is an understatement. A couple of times I shook my head thinking maybe my mind was foggy and I was seeing something on the page that wasn't there or I just read something incorrectly. Nope, it was Blake doing Blake.
I love the ending because it completes this story, but leaves the door open if you want to continue on with the next installment. I'm in 🙂
Save
Save
Save
Save
Save
Save
Save
Save
Save
Save
Save
Save
Save
Save
Save
Save
Save
Save
Save
Save
Save
Save
Save
Save
Save
Save
Save