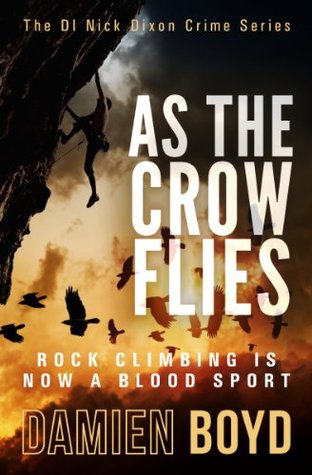 As The Crow Flies
by
Damien Boyd
Series:
DI Nick Dixon #1
Published by
Thomas & Mercer
on January 20th 2015
Genres:
Mystery
Goodreads

Rock climbing is now a blood sport.

Detective Inspector Nick Dixon's former climbing partner, Jake Fayter, is dead. Killed in a fall whilst practising a new route on High Rock, Cheddar Gorge. Convinced that Jake would not have made such a simple mistake, Nick Dixon starts digging and uncovers a web of intrigue and criminal activity that will rock the sleepy seaside town of Burnham-on-Sea to its core.

As the body count rises, Dixon is forced to break every rule in the book and put his own life on the line to bring the killer out into the open.
My Review:
Experienced climber falls to his death due to a rookie mistake and the parents ask Detective Inspector Nick Dixon, a friend of the victim who is an ex-climber to keep an eye on the investigation so that no stone is left unturned. The officer investigating the accident is made to look like an idiot, bumbling his way through and opening the door for Nick to insert himself into the investigation.
A lot of technical jargon kept knocking me out of the story. I kept looking for footnotes or anything that would help decipher what I was reading, but I was left wanting. Was I really expected to know this or to research this while in the middle of a story? Apparently. I did what any reasonable reader would do, I ignored it. Climbers would probably find this riveting and breeze through this stuff.
Other than the climber-speak that went unexplained the only other thing that was memorable was the fact that Peregrine falcons made an appearance in this story.
"Um, why is that memorable Vic?"
Glad you asked. This book came on the heels of Miss Peregrine's Home for Peculiar Children. That's pretty much what I remember off the top of my head. Onto my notes…
There was a point that it started to get good but didn't quite make it. I won't mention the page so you don't expect it if you decide to read this.
As far as the mystery, there really wasn't one. I guessed who the villain was early on. This is an easy read. Not layered with sub-plots but what do you expect from 178 pages? You can easily read this in one sitting. Flows easily and dialogue that makes sense.
I might give the series another shot with book #2. We'll see.