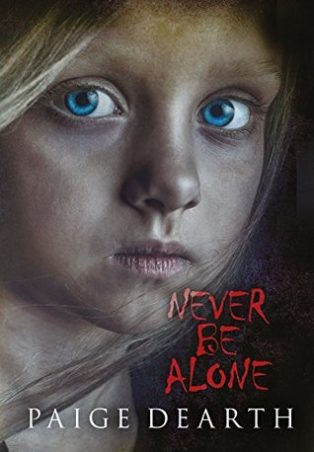 Never Be Alone
by
Paige Dearth
Published by
Fiction With Meaning LLC
on March 30th 2018
Genres:
Dark
,
Horror
,
Real-life Horror
Pages:
414
Goodreads

Young Joon's parents died, her foster family is dangerous, homelessness is her only option.

Joon had a good life with her parents--she was loved and cared for the way all eight-year-olds should be. Then, one horrible day, her parents died, and she was put into the foster care system.

When Joon is placed with a single mother, Aron, and her two sons, nothing could have prepared her for the cruelty and brutality she would be subjected to over the next four years. When things escalate and her foster brother Deen threatens her, Joon takes to the streets to escape the viciousness of her foster family and start her life over.

On the streets, Joon finally finds comfort with a group of homeless teenagers. But things are never what they seem, and there is always a price to pay for safety on the streets. NEVER BE ALONE is a story of homelessness but hopefulness, as Joon's relentless determination eventually helps her find her place in the world and make a difference.
My review:
If you're looking for a feel good story of surviving teenage homeless, look elsewhere. Never Be Alone is truthful, brutal and unapologetically raw. It forces us to confront that which makes a lot of us uncomfortable, kids doing what they need to do to survive on the streets.
Joon is our 8 year old MC who is put into the foster care system when her parents die in a car accident. She is placed in a foster home with Aron, who appears to the outside world as a loving single mother but who shouldn't even have custody of her own two boys.
Joon endures four years of unimaginable horrors and decides that she has had enough when threatened by one of her foster brothers:living on the streets seems to be a safer option.
On the streets she meets a cast of characters, some that want to help her and others that want to help themselves to her. To say what Joon experiences is heart-wrenching comes across as an understatement. There is nothing that I could tell you, short of telling you Joon's story, that will prepare you for Never Be Alone.
Joon is a character that will stay with me for mostly wrong reasons. I can't look at the cover without getting a knot in my stomach or tearing up.
Highly recommended.
Tearful thanks to the author, publisher and Netgalley for a copy of this story in exchange for an honest review.