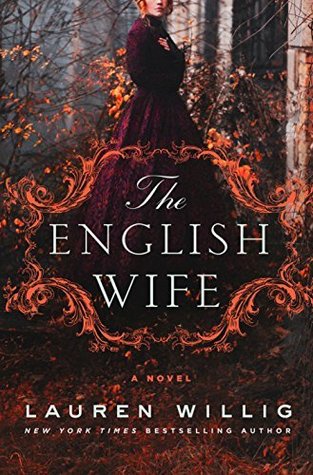 The English Wife
by
Lauren Willig
Published by
St. Martin's Press
on January 9th 2018
Genres:
Historical Fiction
,
Mystery
Pages:
379
Goodreads

Annabelle and Bayard Van Duyvil live a charmed life: he's the scion of an old Knickerbocker family, she grew up in a Tudor manor in England, they had a whirlwind romance in London, they have three year old twins on whom they dote, and he's recreated her family home on the banks of the Hudson and renamed it Illyria. Yes, there are rumors that she's having an affair with the architect, but rumors are rumors and people will gossip.

But then Bayard is found dead with a knife in his chest on the night of their Twelfth Night Ball, Annabelle goes missing, presumed drowned, and the papers go mad. Bay's sister, Janie, forms an unlikely alliance with a reporter to uncover the truth, convinced that Bay would never have killed his wife, that it must be a third party, but the more she learns about her brother and his wife, the more everything she thought she knew about them starts to unravel. Who were her brother and his wife, really? And why did her brother die with the name George on his lips?
My Review:
"…taking a sip of her tea, which had been brewed too weak. Americans, no matter how they aped English manners, no matter how they imported hampers from Fortnum's, failed to understand tea."
One of my favorite quotes. As Americans we have no business brewing tea. This country was built on coffee. And beer. Feel the need to stick your pinky up in the air like a flag, do it while drinking a Budweiser 😛

I digress.
I won't lie to you… I picked this up mostly based on the gorgeous cover. And by mostly I mean over 90%. The author being a New York Times Bestselling Author helped a little, but the cover grabbed and held on to me until I screamed Uncle! Sadly, the only thing I love about this book is the cover. I didn't go in with any expectations but when I finished, I was left with a feeling of wanting more than what I received.
The setting and the time period were both appealing. New York City during the "Gilded Age". Featuring The Rich, The Famous, The Secretive.
The story has it's fair share of all three. Two of them are Brayard Van Duyvil and his bride, Annabelle – he is found dying with a knife in his chest and she is missing. Rumor circulates that this was a murder/suicide, with Brayard the perpetrator. His sister Janie isn't buying that version of events and looks to uncover the truth.
This is a gothic mystery told in two timelines…the present and 5 years earlier. Both timelines are intriguing and little by little we're fed bits and pieces that answer some questions and raise others. This is one my notes I wrote while reading this – "pg 149…  I am so confused"  😉 I also felt a bit of unease and melancholy while reading this story. I did find at times that the story moved so slowly for no apparent reason.
The mystery was well-crafted but once I latched on to a suspect, this 'Whodunit' became more of a 'How-they-dun-it'?
I liked the way the author wrote her characters – the one I liked, Janie, I really liked. The ones I hated, like mom and a cousin, I despised. The naming of the characters left much to be desired in my opinion. I spent a good bit confused (again? yes again) with the similar names Anne Annabelle Alva and Georgiana Georgie and George. If confusing the reader was the author's intent, Kudos! Mission accomplished 🙂 Every character has secrets – so that was fun. Part of me wanted to be all up in their business and another part was wary of what I would find.
Despite the 3-star rating, this story is still highly recommended.
Many thanks to the author, publisher and Netgalley for an electronic copy in exchange for an honest review.