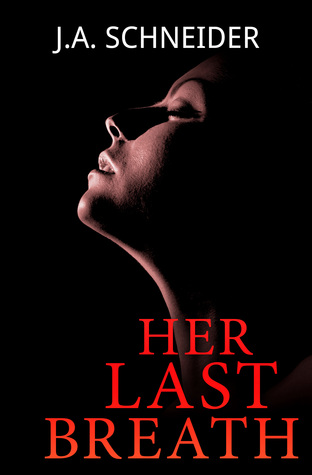 Her Last Breath
by
J.A. Schneider
Series:
Detective Kerri Blasco #2
Published by
RGS Media
on October 21st 2016
Genres:
Mystery
,
Thriller
Pages:
253
Goodreads

A chilling psychological thriller about a woman caught between two men…

Mari Gill wakes to horror in a strange apartment next to a murdered man, and can't remember the night before. Accused of murder, she feels torn between her husband, a successful defense attorney, and a mysterious, kind man who wants to help. Can she trust either of them – or even her friends? Detective Kerri Blasco battles her police bosses believing Mari is innocent…but is she?
My Review:
My thoughts upon reading the blurb…
"Great, another love triangle. Everybody's got a triangle… Where's my triangle?"
Keep reading sunshine.
"Done. Is that it? Seems weak."
Not so fast grasshopper.
Put yourself in the MC's shoes. You wake up in an unfamiliar apartment next to a murdered man that you don't recognize and you can't remember the night before. All the signs point to you having committed a murder.
That's not weak, that's terrifying.
Shortly after, Mari finds herself caught between the hero who saved her life and her estranged husband who happens to be a top defense attorney that comes to her rescue. Both men appear to want what's best for her.
Mari doesn't know what happened in that room. She needs to know what happened. She doesn't believe she killed the man… but did she? The way the author focuses on Mari in the beginning, you kind of forget that the series is about Kerri. I liked this though. Feeling the desperation from Mari's POV allowed me to be just as uncertain, paranoid and not trusting of anyone.
The author has a knack for crafting characters that you want advocating for you. Embryo had Jill Rainey, this story has Detective Kerri Blasco. She is convinced Mari's been setup but she's having a tough time convincing her supervisor. Eventually she is given a deadline to either provide proof supporting her suspicions or Mari will be named as the suspect to the media. Kerri is racing against a clock and a murderer who may be out there watching or standing right next to her.
For some reason every time I think of this story, I picture the upper portion of a white-walled room with a bit of sun brightening up certain areas. My perspective is always looking up towards a corner of the room. I see this when I think about Mari waking up that fateful day and again later on in the story. I was going to make some wisecrack about it being the rubber room I would end up in after trying to figure out this mystery, but I can't because this picture is always accompanied by a warm feeling. There's nothing light and airy about this story. The cover is dark and the situation our MC finds herself in is even darker. Things that make you go Hmmm.
"You gotta feel it, Tom."
This is one of my favorite lines from the story.
This review was longer just before I hit publish. Then I compared it to the blurb and removed sections I felt gave away too much of the story. A sentence here and a phrase there could be enough to spoil the story, so I present this bare-boned review for your perusal. In case I wasn't clear, the writing is great and the characters believable. That is a solid foundation for a story in my book.
I haven't read the first book in the series but at no time did I feel like I was missing anything. I'd read another Kerri Blasco story in a heartbeat.
Highly Recommended if you like to be kept on your toes, uncertainty and tension-filled psychological thrillers.
Many thanks to J.A. Schneider and Netgalley for the ARC I received in exchange for an honest review.
Save
Save
Save
Save
Save
Save
Save
Save
Save
Save
Save
Save
Save
Save
Save
Save
Save
Save
Save
Save
Save
Save
Save
Save
Save
Save
Save
Save
Save
Save
Save
Save