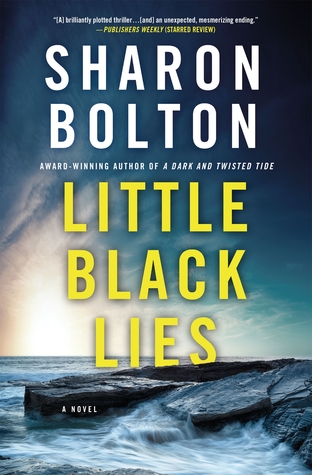 Little Black Lies
by
Sharon J. Bolton
Published by
Minotaur Books
on May 19, 2015
Genres:
Mystery
,
Thriller
Pages:
368
Goodreads

In such a small community as the Falkland Islands, a missing child is unheard of. In such a dangerous landscape it can only be a terrible tragedy, surely...

When another child goes missing, and then a third, it's no longer possible to believe that their deaths were accidental, and the villagers must admit that there is a murderer among them. Even Catrin Quinn, a damaged woman living a reclusive life after the accidental deaths of her own two sons a few years ago, gets involved in the searches and the speculation.

And suddenly, in this wild and beautiful place that generations have called home, no one feels safe and the hysteria begins to rise.

But three islanders—Catrin, her childhood best friend, Rachel, and her ex-lover Callum—are hiding terrible secrets. And they have two things in common: all three of them are grieving, and none of them trust anyone, not even themselves.
My Review:
Okay, this was really good. I loved the setting of the story and especially the writing. Just when I thought I had a resolution I could live with, the author would throw something else into the mix. This is a mystery, so you're going to get clues as to whodunit, but I gotta tell you there was something about the writing and all that was going on that I had an issue recalling the clues. My head was spinning but in a good way. I figured out the ending, but if I'm being honest it's because I suspected everybody. I didn't care how young or old the character was, they were fair game; I think there was even a dead person that did not escape my scrutiny.
This method of detective work is hypocritical. If you'll indulge me – back in the late 80s and throughout the 90s, I would watch the Kentucky Derby with my father. By the time the race started my father would make his picks and would strut around like a peacock displaying his feathers whenever he won. I would then take the opportunity to point out that out of a field of 14 horses, he picked, at a minimum, 9 horses to win. I gave him no quarter in my teasing.
I deserve no quarter.
Save