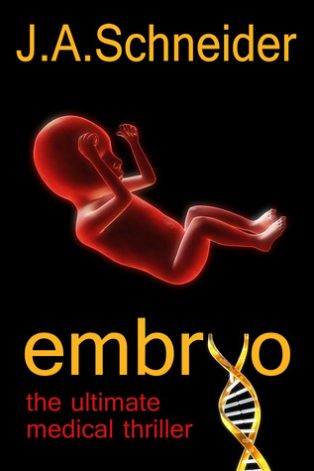 Embryo
by
J.A. Schneider
Series:
A Rainey & Levine Thriller #1
Published by
Amazon Digital Services
on May 18, 2012
Genres:
Mystery
,
Thriller
Pages:
235
Goodreads

"Maria Moran's first inkling of trouble was the coppery taste in her mouth. It came suddenly, a rushing whoosh of something that made her gag, and when she reached to wipe her mouth, her hand came away smeared with blood."

So begins this thriller about a young intern, Jill Raney, determined to investigate tragedies and terror at a famous fertility and genetic engineering hospital. When two pregnant women die and a fetus is delivered with severe chromosomal abnormalities, Jill's superiors - including handsome, smitten-with-her resident David Levine - insist there's no common link.

But her suspicions deepen with the grotesque murder near the hospital of another pregnant woman - her belly drained of amniotic fluid. And when a woman miscarries in the hospital and then disappears, Jill frantically searches for her - following a terrifying path that seems to link all the victims: Is someone playing with life...and the structures of human life itself?

An unforgettable tale of suspense with a shocking denouement, Embryo takes you deep into the mind of malignant genius.
My Review:
"Studies have shown that babies can be taught in utero! You play Mozart and Beethoven loud enough for them to hear. This enhances both their artistic and math abilities, isn't that amazing?"
This story didn't take long to get from 0 to 60. A few times I thought I was going to have to take a break because my heart was racing.
Jill Raney is likable and courageous as the young intern; I was most anxious whenever she was doing her thing. A couple of times I advised her to behave, 'don't go stirring the pot'. She didn't listen. She consistently put her career and her life on the line in order to get to the bottom of all that was suspicious at her place of employment. She is someone you definitely want advocating for you.
David Levine is her resident supervisor and romantic interest. Think Thor without the Hammer. I think he was best when in charge of a patient in distress. He's definitely the one you want attending if you're ever brought in to the ER.
Okay, so they work in a fertility and genetic engineering hospital. A place where you go to get help in getting pregnant which happens to be in close proximity to where genetic modifications take place. What could possibly go wrong? My first thoughts were is this a thing and is this legal IRL?
The writing was good. The author had me believing that some of the advancements in genetic modification that occurred in the story were possible. She painted a picture with her words detailing her world that it felt like I was right by Jill's side running through the hospital.
The characters were written well. A couple of them came across as so real that I wanted to punch them. This is not like me. I'm more of the let's-hug-this-out-but-not-in-a-creepy-way type of guy, but Joyce (you think she'll mind me being so informal?) had me contemplating violence.
Something that I wasn't expecting was how much this nagged me on an ethical level. I kept asking, if this were possible today, would I want that for my child? If I could guarantee an outcome, what would be so wrong? I don't know what the political correctness community has to say about this publicly, but privately I think a lot of parents would state, "Just do your thing doctor. I don't need to know how the sausage is made."
I would like to say that I figured why and how these women were dying, but the truth is that what I figured out was a teeny tiny general piece of the puzzle that IRL it would amount to no more than a lead and not the resolution of the case. I also pegged the wrong person as the villain. It's always cool when I can't figure out the who and the why of a mystery.
Highly recommended if you like thrillers to read.Save