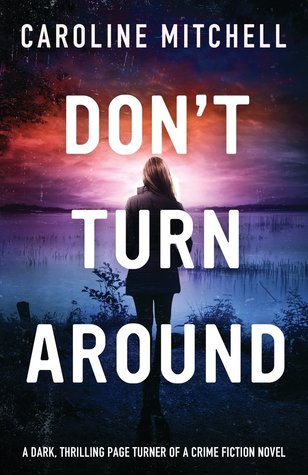 Don't Turn Around
by
Caroline Mitchell
Series:
Detective Jennifer Knight
,
#1
Published by
Bookouture
on April 24, 2015
Genres:
Mystery
,
Paranormal
,
Thriller
Pages:
316
Goodreads

You don't know him. But he knows you.

Soon he would be able to touch her, to feel the warmth of her blood. And when the time came, nothing would stop him.

As D.C. Jennifer Knight investigates a routine stabbing in the quiet town of Haven, she is shocked at what seems like a personal message from beyond the grave.When more bodies are found, Jennifer is convinced the killings are somehow linked. What she discovers is more chilling than she could possibly imagine. The murders mirror those of the notorious Grim Reaper – from over twenty years ago. A killer her mother helped convict.

Jennifer can no longer ignore the personal connection. Is there a copycat killer at work? Was the wrong man convicted? Or is there something more sinister at play …

With her mother's terrifying legacy spiralling out of control, Jennifer must look into her own dark past in a fight not only to stop a killer – but to save herself and those she loves.
My Review:
I went in expecting a crime thriller of the dark variety. What I got was something slightly different. Not bad, just different. So the entire time I am expecting a straight police procedural and instead it's a little curvy with a paranormal element to it. I probably would have passed on this if I had known. I'm glad I didn't know.
The story was good. The paranormal element wasn't overdone. There were a couple of booga booga moments that raise the hair on the back on your neck, but nothing that I found over the top.
Full disclosure: ghosts, zombies and the monsters that live under the bed don't scare me (I may not dangle my arm over the side of the bed when I sleep but that's because of *clears throat* health issues). Have you seen the movie Open Water? It's based on the true story of two scuba divers accidentally stranded in shark infested waters after their tour boat has left. This is frightening. Know what else is frightening – having my car break down on a lone stretch of road out here in the desert and knowing that the hills have eyes.
This book wasn't that for me. It didn't need to be. Watching D.C. Jennifer Knight was more than enough.
Jennifer is convinced that there is a connection between all the the murders that are taking place but she cannot fully share why she is so sure. Her colleagues either cannot see or outright dismiss her findings. So she has to solve the murders with information that her team isn't privy to.
Her relationship with her partner D.C. Will Dunston is a treat to watch. The dynamic and back and forth were fun and felt real.
The story flips between the present and past-that-working-it's-way-up-to-the-present and it is done well. I didn't care when we were because both time periods were exciting and disturbing.
The last 40% was engaging and gripping enough that I went through it at a good clip. I like Jennifer and Will enough to want to read the next installment. I hope there's more of Slack Lips Sue in the upcoming books.Save
Save
Save
Save
Save
Save