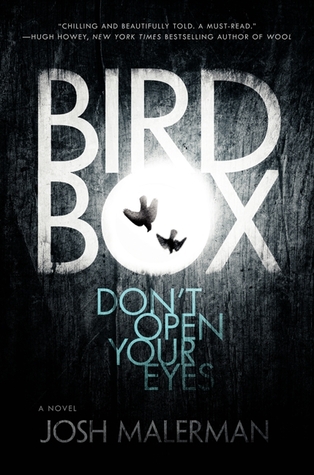 Something is out there, something terrifying that must not be seen. One glimpse of it, and a person is driven to deadly violence. No one knows what it is or where it came from.
Five years after it began, a handful of scattered survivors remains, including Malorie and her two young children. Living in an abandoned house near the river, she has dreamed of fleeing to a place where they might be safe. Now that the boy and girl are four, it's time to go, but the journey ahead will be terrifying: twenty miles downriver in a rowboat–blindfolded–with nothing to rely on but her wits and the children's trained ears. One wrong choice and they will die. Something is following them all the while, but is it man, animal, or monster?
Interweaving past and present, Bird Box is a snapshot of a world unraveled that will have you racing to the final page.
Title: Bird Box
Author: Josh Malerman
ISBN13: 9780062259653
On Goodreads
Review:
Wow.
Loved it.
This book delivered everything it promised me in the description. The author does a magnificent job of creating this world where you cannot look outside and getting the reader to experience said world.  I'm a fan of great opening lines in a story and this one sucked big time. BUT the rest of the chapter was one of the best and most engaging I have read in a long while. I was dropped into the MC's world and after every paragraph, instead of answers, I had more questions. I couldn't wait to get all up into her business.
Knowing that the protagonist makes it, at least, to the present does not diminish any of the horrific events she had to go through to get here. I still felt the terror she felt of sensing something near her but not being able to take a peek. I kept telling her to "just take a little peek… with one eye." I would be sooo dead in this world. Give me zombies any day 😀 Which reminds me, I need to hasten my move to Idaho and start working on my bunker.
I am man enough to admit that the last chapter had me in tears(just don't tell my dad, he'll never let me live it down).
If you like psychological/creepy/horror tales, read this. If it's on your to-be-read list, move it up.
Take a look, I dare you.
5/5 Stars