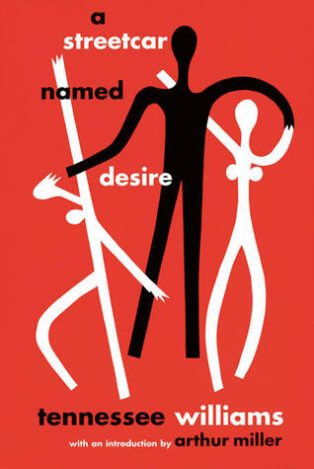 A Streetcar Named Desire
by
Tennessee Williams
Published by
New Directions
on September 17, 2004
Genres:
Classics
,
Plays
Pages:
192
Goodreads

The Pulitzer Prize and Drama Critics Circle Award winning play—reissued with an introduction by Arthur Miller (Death of a Salesman and The Crucible), and Williams' essay "The World I Live In."

It is a very short list of 20th-century American plays that continue to have the same power and impact as when they first appeared—57 years after its Broadway premiere, Tennessee Williams' A Streetcar Named Desireis one of those plays. The story famously recounts how the faded and promiscuous Blanche DuBois is pushed over the edge by her sexy and brutal brother-in-law, Stanley Kowalski. Streetcar launched the careers of Marlon Brando, Jessica Tandy, Kim Hunter, and Karl Malden, and solidified the position of Tennessee Williams as one of the most important young playwrights of his generation, as well as that of Elia Kazan as the greatest American stage director of the '40s and '50s.
My Review:
Stell-lahhhhh!
I read this back in the late 70s and I can honestly say that, while I enjoyed it, I never fully appreciated it. It was a good, short-read for a school assignment. Nothing special.
Then I saw the film adaptation and it quickly became an all-time favorite movie. And Blanche Dubois came to life as one of the most interesting characters I have ever happened upon. Even with her vanity, manipulative behavior, the loss of the ancestral home and her lies,
"I don't want realism. I want magic! Yes, yes, magic! I try to give that to people. I misrepresent things to them. I don't tell truth, I tell what ought to be truth. And if that is sinful, then let me be damned for it! – Don't turn the light on!"
I couldn't stay angry at Blanche for long. I found myself pitying this sad and tragic character. I knew it was coming, yet I couldn't help but catch my breath (read: yelp) when she uttered her "kindness of strangers" line.
Hayleigh encouraged me to re-read the play and I'm glad she did. I have a newfound appreciation for this piece of work. The only issue I had reading this is that I kept seeing Marlon Brando and Vivien Leigh throughout the book.