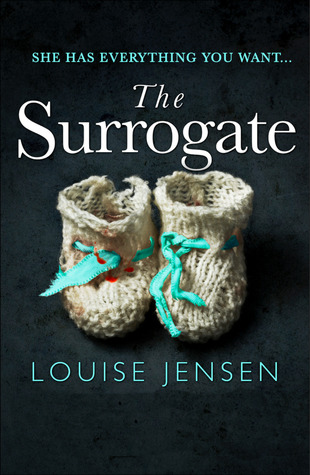 The Surrogate
by
Louise Jensen
Published by
Bookouture
on September 27, 2017
Genres:
Thriller
,
Psychological Thriller
Pages:
324
Goodreads

'You know that feeling? When you want something so badly, you almost feel you'd kill for it?'

Be careful what you wish for…

Kat and her husband Nick have tried everything to become parents, and are on the point of giving up. Then a chance encounter with Kat's childhood friend Lisa gives Kat and Nick one last chance to achieve their dream.

But Kat and Lisa's history hides dark secrets.

And there is more to Lisa than meets the eye.

As dangerous cracks start to appear in Kat's perfect picture of happily-ever-after, she realises that she must face her fear of the past to save her family…
My Review:
A really good story.
This is a really good story that should not have taken almost 2 days for me to finish but I needed the breaks. For a good portion of the first half, the story had me on edge. In my sole update @ 25% on Goodreads I wrote:
Louise's writing has me seeing conspiracies, dangers and a boogeyman around every corner :O My poor heart.
This was so true. My heart was racing and my stomach was in knots because I just didn't know who(m) I could trust. I tell you nobody was above suspicion. I even suspected Ada (<24 months old), trying to look all innocent with her ringlets and blue eyes – she was up to something, I just knew it. The story kept me on my toes wondering and asking aloud, "Louise where are you taking me? Where are you going with this?" In the end I was spot on with two, just two of my suspicions and they were huge – huge but not obvious. If you throw enough spaghetti on the wall, some of it will stick 🙂
I almost stopped caring about Kat because I found her to be selfish regarding an aspect in the story that has nothing to do with the surrogacy, so I won't mention it – but she was 😉
A question that kept nagging me while reading was, "Is it possible to want something too much?"
I purchased this at the end of September and wanted to wait for the hype to die down a bit, then I realized that this is Louise Jensen we're talking about: her books tend to stay at the top of the charts so the hype wouldn't be dying down anytime soon. A little piece of me wishes that I hadn't waited.
Highly recommended, especially if you like psychological thrillers.