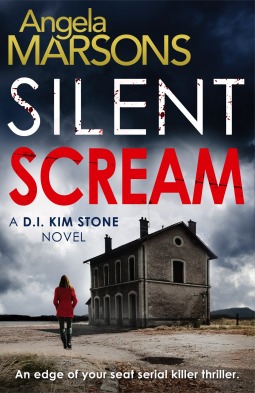 Silent Scream
by
Angela Marsons
Series:
D.I. Kim Stone
,
#1
Published by
Bookouture
on February 20, 2015
Genres:
Mystery
,
Thriller
Pages:
307
Goodreads

Even the darkest secrets can't stay buried forever… Five figures gather round a shallow grave. They had all taken turns to dig. An adult sized hole would have taken longer. An innocent life had been taken but the pact had been made. Their secrets would be buried, bound in blood …

Years later, a headmistress is found brutally strangled, the first in a spate of gruesome murders which shock the Black Country.

But when human remains are discovered at a former children's home, disturbing secrets are also unearthed. D.I. Kim Stone fast realises she's on the hunt for a twisted individual whose killing spree spans decades.

As the body count rises, Kim needs to stop the murderer before they strike again. But to catch the killer, can Kim confront the demons of her own past before it's too late?
My Review:
I have never taken as long to write an introduction to a review as I have with this one. When I started to consolidate my notes, this is what I saw: The MC was complex; The characters well written; This was a page turner, gripping, had me from page 1 blah blah blah…
Cliché after cliché after cliché; like I was trying to break some sort of Guinness record for most clichés in a review. After staring at my notes and a blank screen for what seemed like hours, my eyes started to cross and I started channeling the praise you often find on the back of jacket covers, "There's a new kid on the block and she's bringing it. ~ Stephen King" "I was so excited when I was approved for an ARC. ~Dan Brown"
After my third, or fifth cup of coffee I asked myself, what's wrong with clichés if they fit?
The MC, D.I. Kim Stone, is complex; she's also strong and captivating. She has sorry people skills, doesn't react well to kindness and is sarcastic as all get-out:
Being addressed by a colleague while accompanied by her partner, D.S. Bryant…
'Detective, are you this sarcastic to everyone you meet?'
She thought for two seconds.  'I certainly try to be.'
He turned to face her fully.  'How have you been this successful by being so rude, arrogant, obnoxious …'
'Hey, easy there, Doc.  I have bad points as well.  Tell him, Bryant.'
Gosh I love this woman. She's seen as cold and that's okay with her. She doesn't want people to see her as warm and fuzzy. I love how she embraces the negative light that people outside of her inner circle see her in. She's no nonsense, doesn't waste time and expects people to do their jobs. It appears to me that the only person that can inflict emotional harm, is her boss Chief Inspector Woody, and yet professionally she pushes the boundaries with him by ignoring direct orders. Whatever it takes to get the job done right.
The secondary characters are written well enough to not be cardboard cut-outs – this sounds horrible the more I read it. There are quite a bit of them, so they aren't fully fleshed out, but for this story they don't need to be. They just needed to not be invisible, and they weren't. I should quit while I'm still behind 🙂 Seriously though, we got to see enough of the other members of Kim's team, that it will be interesting to see their growth in the series.
The story keeps you turning pages – the deeper you get into the story, the greater the need to know becomes and the harder it is to close the book. There are only so many ways to say 'just one more chapter'; only so many bargains you can make with your Higher Power to let you make it through the day with less sleep. Before you know it, BOOM, you're at 80%. DUN DUN DUUUUN!!! (dramatic sound effect) There's an unwritten rule – don't ask me where,  I just said it's unwritten – that states, "Once you make 80%, you have book to finish." This is as close as we could get as this was passed down in Latin and it seems no one speaks that anymore.
This need for one more chapter doesn't come from explosions, car chases or shoot-outs. It comes from the writing. At the end of every chapter I was filled with a desire to go on; a need for more. At this time some of you may be itching to point out the this is due to the cliffhanger, but it's more than that. When you can get me to care enough about your characters, I'll turn the next page to see how their trip to the supermarket went.
There are enough red herrings to keep you guessing and I was doing a lot of that. When I read on my computer, I keep notepad open and make notes for things I want to remember and questions I may have. I had three questions regarding my prime suspect and I happened to be correct. Would I claim that I solved this? No. Why? Because it remained a question well into the story. I felt that I might be right, but the author left me with more than enough doubt. Great writing does that.
This is an easy read, it has a good beat and it's easy to dance to, so I highly recommend this story and Evil Games (Book 2), which I read before this one. On to Lost Girls.
Save