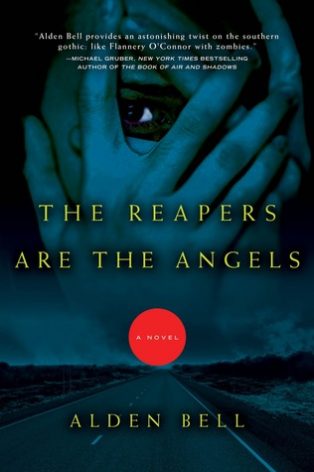 The Reapers are the Angels
by
Alden Bell
Series:
Reapers
,
#1
Published by
Holt McDougal
on August 3, 2010
Genres:
Horror
,
Zombies
,
Post Apocalyptic
Pages:
225
Goodreads

Zombies have infested a fallen America. A young girl named Temple is on the run. Haunted by her past and pursued by a killer, Temple is surrounded by death and danger, hoping to be set free.

For twenty-five years, civilization has survived in meager enclaves, guarded against a plague of the dead. Temple wanders this blighted landscape, keeping to herself - and keeping her demons inside. She can't remember a time before the zombies, but she does remember an old man who took her in and the younger brother she cared for until the tragedy that set her on a personal journey toward redemption. Moving back and forth between the insulated remnants of society and the brutal frontier beyond, Temple must decide where ultimately to make a home and find the salvation she seeks.
My Review:
But you gotta look at the world that is and try not to get bogged down by what it ain't.
Zombie Literature with Southern Twang, Charm, and Hospitality
In one of my updates on goodreads, I wrote that this isn't your typical zombie story and it isn't. There is little in the way of killing zombies and the associated gore. This is a story of adventure, redemption, and miracles. Oh, and the prose is to die for.
Our MC is 15-year-old Temple AKA Sarah Mary Williams and this is her story.
The apocalypse occurred 25 years ago so Temple only knows this life filled with slugs (zombies). She never learned to read and write so she speaks with poor grammar but often spews wisdom that is beyond her years.
They don't bother you so much, she says, if you can stay out from between their teeth.
I absolutely loved her charm and her naivete. In her travels, she befriends another survivor whom she takes under her wing in a matter of speaking.
If I ain't evil, then what am I? Cause my hands, see, they ain't seem to got no purpose except when they're bashing in a skull or slittin a throat. That's the whole, all around truth of the matter. Them meatskins, they kill – but they ain't get any satisfaction out of it. Maury, you sure are wanderin a lonely earth – full of breach and befoulment – but the real abomination is sittin right next to you.
She's troubled by some of the things she's had to do to survive and believes the only place for her is outside amongst the meatskins. She doesn't get too comfortable in safe communities. I got the feeling she'd rather have the entirety of the US to roam than be confined to an enclosed community. No matter how safe that community may be. It also doesn't help that a killer is after her.
The prose is beautiful. The flow, the words, the dark pictures it painted in my mind. I found myself re-reading passages because the language was gorgeous. The only issue I had was the lack of punctuation for dialogue but I got used to that rather quickly.
There they sit, at a rickety card table attached with brackets to the inside wall of the boxcar so it doesn't spill over with the starts and stops, playing Omaha poker and drinking booze out of tin mugs, or sitting with their legs out the open side of the car, watching the landscape go by and breaking down their guns to clean them, or carving miniature figures out of basswood with pocketknives. There they are, the new knights-errant of this blasted homaloid – lost men who find lost men and carry them to safety by their dusty collars.

They belong, Temple thinks. They have they stink of belonging wherever they go. This world is their world, and they take possession of every yard they cover, and they run the sun to its grave every night.
There were many more excerpts that I wanted to include here but I'll leave you with one of my favorite lines;
This girl ain't full service.
I'm writing this 5 days after finishing the story and one thing I found interesting that I couldn't quite put my finger on when reading it was how relaxed (not as cautious as I would expect them to be) the survivors appeared to be when meeting other survivors. I'm used to reading zombie stories that take place during or shortly after the apocalypse where the tension is high and trust for your fellow man is at an all-time low. I suspect that 25 years into this post-apocalyptic society had a lot to do with it.
I highly recommend this even if you don't normally read Zombie or YA stories. Don't let the YA tag fool you, this doesn't read like your typical YA.
Save
Save
Save
Save
Save
Save
Save
Save
Save
Save
Save
Save
Save
Save
Save
Save
Save
Save
Save
Save
Save
Save
Save
Save
Save
Save
Save
Save
Save
Save
Save
Save
Save
Save
Save