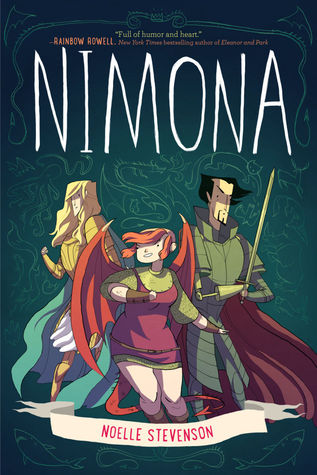 Nemeses! Dragons! Science! Symbolism! All these and more await in this brilliantly subversive, sharply irreverent epic from Noelle Stevenson. Featuring an exclusive epilogue not seen in the web comic, along with bonus conceptual sketches and revised pages throughout, this gorgeous full-color graphic novel is perfect for the legions of fans of the web comic and is sure to win Noelle many new ones.
Nimona is an impulsive young shapeshifter with a knack for villainy. Lord Ballister Blackheart is a villain with a vendetta. As sidekick and supervillain, Nimona and Lord Blackheart are about to wreak some serious havoc. Their mission: prove to the kingdom that Sir Ambrosius Goldenloin and his buddies at the Institution of Law Enforcement and Heroics aren't the heroes everyone thinks they are.
But as small acts of mischief escalate into a vicious battle, Lord Blackheart realizes that Nimona's powers are as murky and mysterious as her past. And her unpredictable wild side might be more dangerous than he is willing to admit.
My Review:
What do you mean there are rules? Why would you follow the rules?

This was so much fun to read. I had this on my TBR for over 18 months and for the life of me I cannot remember why I put this off for so long. A shame I tell you. If I was aware of the hype when I put it on my list, I forgot about it, so I read this without any expectations. I wanted to read more books that have been on my TBR for a long time and this was up next. I enjoyed this, a lot. There were a lot of laugh-out-loud moments for me, one that stood out was movie night.
Nimona is a cute impulsive high energy shapeshifter. I just realized why I had put off reading this. I always read werewolf whenever I see the word shapeshifter. Anyway, she's reckless, dangerous and oh so funny. She shows up and announces to Lord Blackheart that she is his new sidekick. He initially refuses, not wanting a kid hanging around, until she tells him she's a shapeshifter and can take the form of any living creature. He realizes that she may come in handy and hires her.
We get a hint of what Nimona is like in the panels of page 1 and I was hooked. She's impulsive, cute and I wanted nothing more than to pinch her cheeks. Loved her energy, but I must admit that I got tired just watching her bounce around. Nimona wants to take Lord Blackheart's villainy to another level. She's willing, and offers, to kill anyone that stands in his way – even the King. A tad misguided but her heart's in the right place 🙂
Lord Ballister Blackheart – Once hero now a notorious villain. He's such a complex character in that he's a villain that doesn't want or need to kill in order to fight the powers that be and expose their hidden secrets. He does bad things but for good reasons. Can a villain have a big heart?
Sir Ambrosius Goldenloin – Nemesis to our Blackheart. Stooge of the evil Institution of Law Enforcement and Heroics that rules the Kingdom. They claim to be the good guys but do they really have the Kingdom's best interests at heart? What dark secrets are they willing to kill for in order to keep them covered?
As for as the story, I said I was hooked from page 1 and quickly got the feeling that all wasn't what it seemed. It starts out as an adventure then it becomes something more complex. The bad guys don't seem so bad. I started to question motives and what defines a villain. What secrets were the characters hiding? And Nimona's backstory, amazing.
The world they lived in was unique, to me at least, in that it appears to be set in medieval times with Lords, swords, magic, and dragons alongside modern day technology like computers and rayguns.
I liked the artwork, I didn't love it. It took me a few minutes to get used to it and then I got so engrossed in the story that the style seemed to make sense.
Nimona is an adventurous, often funny, sometimes dark and sad story.
Highly recommended
5/5 Stars
Save
Save
Save
Save
Save
Save
Save
Save
Save
Save
Save
Save
Save
Save
Save
Save
Save
Save
Save
Save
Save
Save
Save
Save
Save
Save
Save
Save