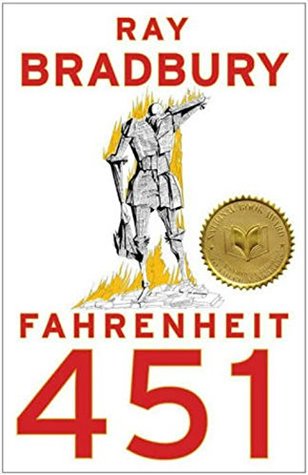 Fahrenheit 451
by
Ray Bradbury
Published by
Flamingo Modern Classics
on October 1953
Genres:
Classics
,
Dystopia
Pages:
120
Goodreads

The hauntingly prophetic classic novel set in a not-too-distant future where books are burned by a special task force of firemen.

Guy Montag is a fireman. His job is to burn books, which are forbidden, being the source of all discord and unhappiness. Even so, Montag is unhappy; there is discord in his marriage. Are books hidden in his house? The Mechanical Hound of the Fire Department, armed with a lethal hypodermic, escorted by helicopters, is ready to track down those dissidents who defy society to preserve and read books.

The Classic novel of a post-literate future, Fahrenheit 451 is part of the Voyager Classic series. It stands alongside Orwell's 1984 and Huxley's Brave New World as a prophetic account of Western civilization's enslavement by the media, drugs and conformity.

Bradbury's powerful and poetic prose combines with uncanny insight into the potential of technology to create a novel which, forty years on from first publication, still has the power to dazzle and shock.
My Review:
Scary and sad to live in a society where books are illegal. To think that you have to hide them even from your spouse is heart wrenching, I'm a goody two shoes – don't drink*, don't smoke, what do I do? I don't jaywalk here in Vegas cause that'll get you at best, heavily fined and at worst, killed. The extent of my thug life consists of misusing semicolons. Having said that I would have hidden books in every nook and cranny inside and outside of my house, and maybe even your house. I definitely would have been a leader in an underground cell tasked with procuring, protecting and preserving books.
I went into this not really knowing what it was about, even after I read the blurb and postponed picking this up several times, so I was pleasantly surprised when reading it. I enjoyed the story, but I was somewhat scared. Could this happen? Maybe not probable, but is it even remotely possible? In 50 years? It does have a Book of Eli feel to it and I was okay with it.
Highly recommended.
*One or two times a year I allow myself a couple of Mike's Hard Lemonade. I once made the mistake of purchasing four at one time because they were on sale. Had two of them on Day One with a big dinner in between and started singing Come What May from Moulin Rouge – I sang both parts of the duet. Received some applause from a neighbor. Had the other two on Day Two and choreographed a 5-minute stepping routine. No applause this time 🙂