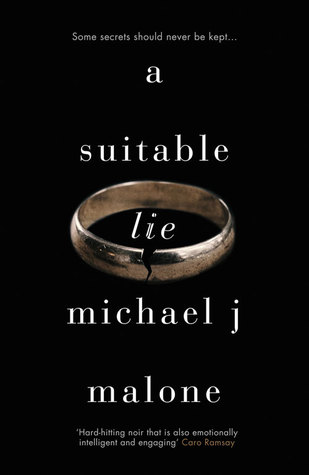 A Suitable Lie
by
Michael J. Malone
Published by
Orenda Books
on August 5th 2016
Genres:
Thriller
,
Psychological Thriller
Pages:
300
Goodreads

Andy Boyd thinks he is the luckiest man alive. Widowed with a young child, after his wife dies in childbirth, he is certain that he will never again experience true love.

Then he meets Anna. Feisty, fun and beautiful, she's his perfect match, and she loves his son like he is her own.

When Andy ends up in the hospital on his wedding night, he receives his first clue that Anna is not all that she seems. Desperate for that happy-ever-after, he ignores it—a dangerous mistake that could cost him everything.
My Review:
I finished this five days ago and I still can't fully shake the feeling of what I read. I wanted to wait to do this review because I thought that I would be able to string together enough sentences that made sense, give you an idea as to what the book was about and maybe help you decide if this is one to go on your TBR.
Well, you can't always get what you want. So let me tell you what reading this did to me. I read a couple of reviews by book bloggers but none stood out like Emma's from damppebbles.com (that's damppebbles – not damp pebbles, Damp Pebbles or DP – just damppebbles ;)). I read her review and knew that I had to get this and read it right away.  So I went into this having read the blurb a couple of times and Emma's review. Maybe I'm denser than I want to admit, but I had no idea what awaited me in these pages.
Well drawn characters and situations that, while I was not in agreement with some decisions made, I totally understood. The situations were believable and the character's actions were all understandable. In fact the only thing I found that was over the top was the pain this inflicted on me.
I had to take breaks while reading this. Many breaks, mostly to get coffee. This isn't unusual for me because I often break for a cup of joe. The difference is I usually just want coffee, with this story I needed coffee. Which was good because I barely ate while reading this. Some breaks were to allow myself to calm down.
There was no roller coaster ride for me, just one low after another. I felt helpless, livid, sick to my stomach. I cried tears of frustration and I could feel my blood pressure rising. There was a relentless pounding on my emotions.
I wanted to throw the book across the room, but I was reading this on my laptop, so, no. I wanted to dnf this a couple of times along the way.
This beat me up so much that there came a time when I broke. It was inevitable. I became numb and I no longer hurt, I still cared but I no longer felt. I was out of it. I felt no joy, no sadness, no anger, no pain. This wasn't a choice – the writing and the story took me to the brink and then pushed me over the edge. When I landed, I dusted off the seat of my jeans and continued on, somewhat indifferent to what played out but needing to know just the same.
If I had known what this story dealt with, I might have pushed this down on my TBR, if it made it on to it at all. Chances are I would not have read this, ever. That said, I do not regret for one minute having done so. I read for different reasons and being entertained is a big one, but if a story can elicit visceral reactions like this one did – well, my time was well spent.
I haven't been this upset since Wuthering Heights.
I went online to see what Ayr, Scotland looks like and I felt homesick. I've never been, but it's so lovely and I want to go. Quaint doesn't even begin to describe High Street.
Highly recommended.Save
Save
Save
Save
Save
Save
Save
Save
Save
Save
Save
Save
Save
Save
Save
Save
Save
Save
Save
Save
Save